KopenTech BWIC
Trading, Simplified.
Centralized Marketplace
for Structured Products
What we offer:
Efficiency.
Simplicity.
Data.
Electronic Trading
Alternative trading system
designed to simplify
all aspects of execution
and communication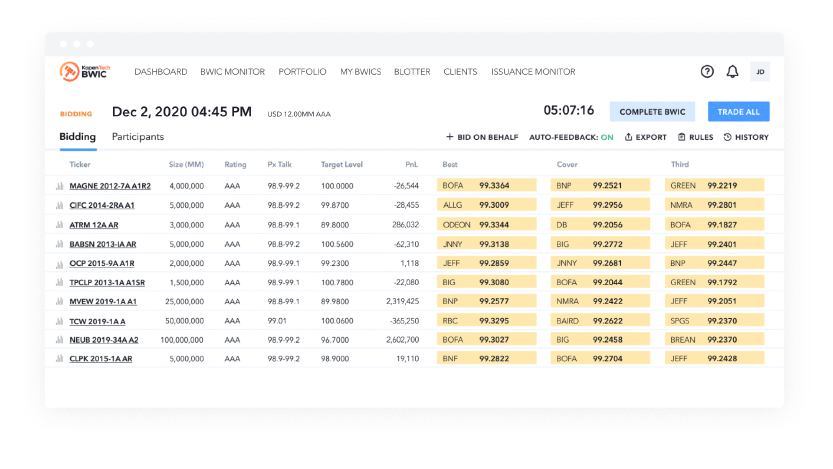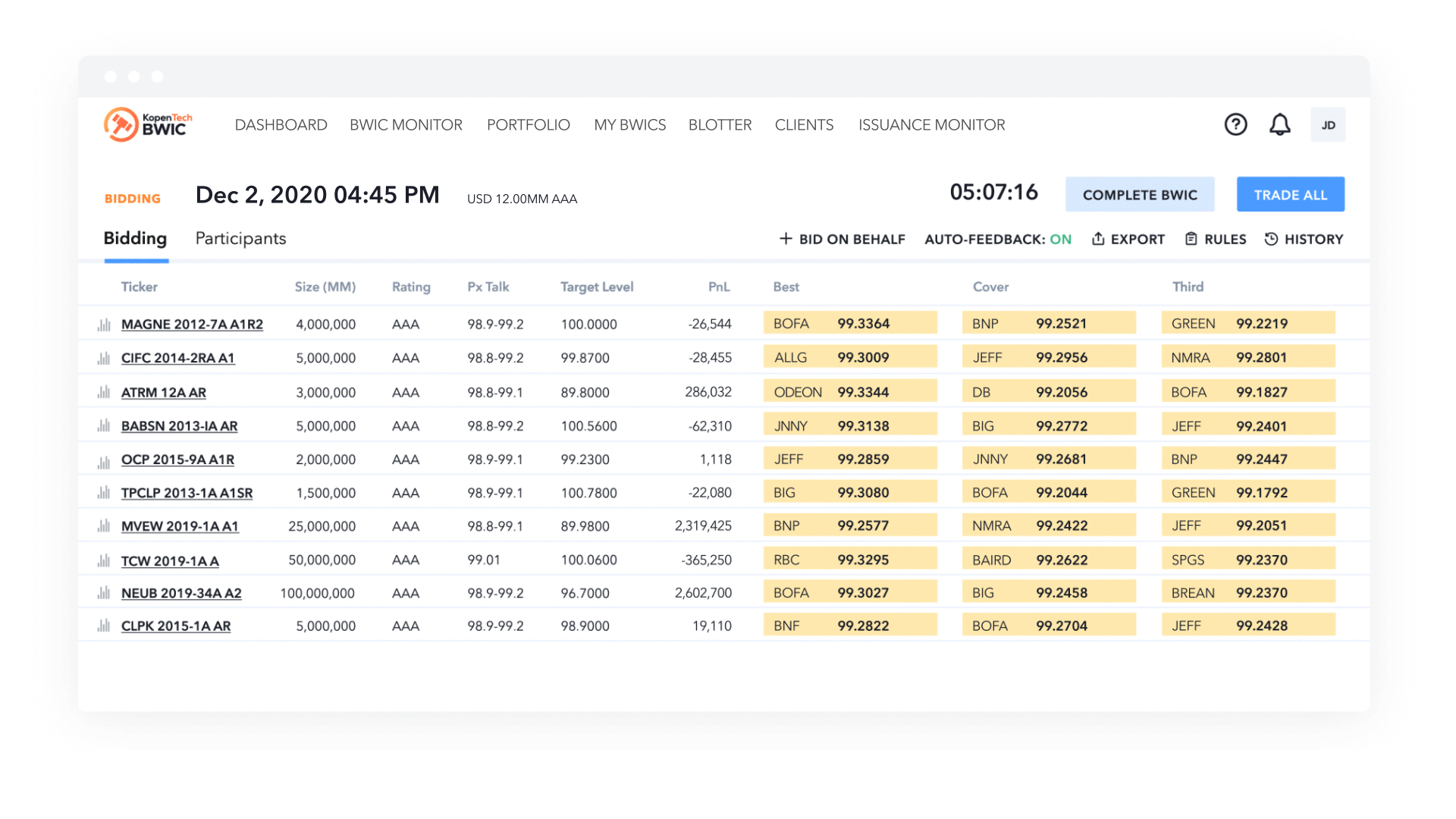 Streamlined trading
communication
Send manual or automated bid
feedback, color distribution
Comprehensive bidding insights
Analyze broker-dealer rankings
and bidding trends across
trading history
BWIC Announcment
Library of documents, dealer
contacts, trade blotter — all in
one place for easy access
Live Bidding Protocol
Customizable trading
protocol for faster execution
Sellers benefit from unlimited
improvements
Broker-dealers see best bid
in real-time
Bidding for CLO BWICs
Centralized bid management
across BWICs/dealers
Real-time data synchronized
across users
Complete log of historical
bidding
Market Monitoring
Complete market surveillance:
primary, secondary, custom portfolios.
Secondary:
BWIC Monitor
Complete CLO
secondary marketplace Access dealer price talk and color.
Export, search or filter data for
your own analysis
Historical data Explore data for the last six years.
See security information,
up-to-date rating and
graphical
representation of historical
px talk & color
NEW Release
Primary:
Issuance Monitor
Centralized access Review historical and current
market issuance: new issue,
refis, resets
Key deal & portfolio details View deal dates, transaction
parties,
capital structure and
portfolio characteristics
Portfolio Monitor
Portfolio organization Setup a portfolio to track your
holdings
or create a watchlist.
Upload deal documents
for
distribution and organization
Trading information View your trading history.
Enable email alerts
for upcoming
BWICs and post-BWIC color
Analysis & Research
Dashboard: all BWIC metrics
in one place.
Primers, monthly
webinars and more...
Volume &
Trading Stats
Wealth of data analyzing trading
volumes
BWICs vs. TRACE
Summary of daily trading stats by
rating,
including price ranges
Upcoming BWIC heatmap to plan
your trading session
CLO Market

Health Indicators

Key barometers showing price
transparency,
demand, liquidity
and overall market direction
Portfolio Alerts
Tools focused on your
portfolio
liquidity and market color
BWIC alerts, security lookup portal
to access
6yr of price history for a
particular CUSIP
Empower your
trading process!
Want to
know more?
Contact us to get a deep dive into BWIC platform.
Ready to try?
Sign up for the platform demo.
Scroll To Top